Our Toolkit comes with an API for Amazon. This post contains all the information you need to set up the interface within the plugin.
The configuration only applies to the Amazon-API installation. All additional information regarding the shop can be found here.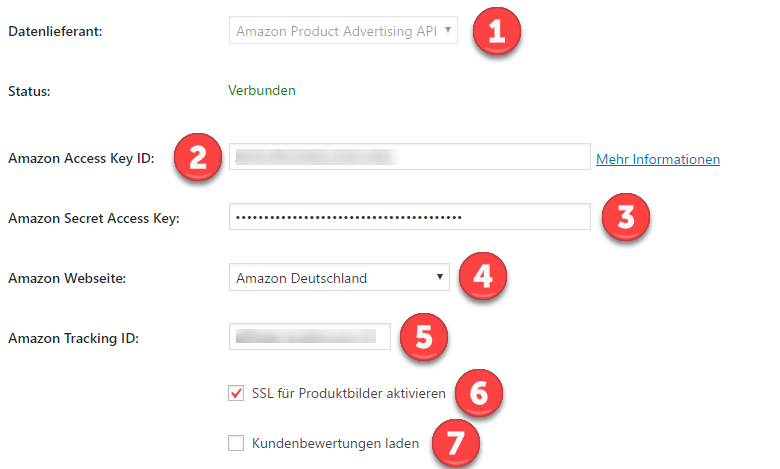 Setting up Amazon interface
1. Data supplier
This is where you pick the eBay-API. Afterwards you can enter your access information.
2., 3. Amazon Access Key ID and Amazon Secret Access Key
The keys can be found on the PartnerNet. Additional information can be found below.
Click on publish once all information has been entered correctly. The plugin now connects to API and checks the key. Once the test has been completed successfully, the status becomes "connected" and all available partner shops are listed. Now you need to checkmark the respective sub-shops and save it again.
4. Amazon website
Choose the Amazon website you would like to advertise. Remember that every country (Germany, USA, UK, etc.) needs its own PartnerNet access.
5. Amazon Tracking ID
Enter your tracking ID here.
6. Activate SSL for product pictures
If your website uses SSL or if you want to switch to SSL in the future, you should click on this box.
7. Loading customer reviews
Our plugin allows you to directly load customer reviews and star ratings from Amazon.
This functionality is not offered by the Amazon-API though. We get this information from the source code of the Amazon website. According to the Amazon guidelines it is illegal and therefore it shouldn't be used.
We advise against the usage of the "load customer reviews" functionality! You risk getting excluded from the Amazon partner program when you use it!
Tipps regarding the Amazon interface
Finding API-Keys
In order to access Amazon's API you need "Access Key ID" and "Secret Access Key". Both keys can be found in the partner area of Amazon.

It is absolutely necessary that you access the Amazon-API via the partner net. Otherwise your partner account won't be linked to your API-account.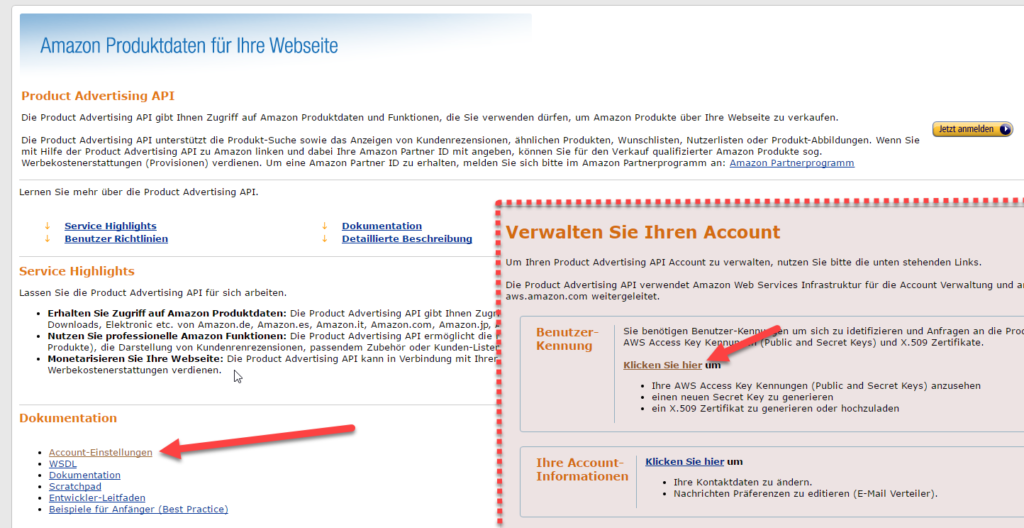 Once logged into the partner section, click on product advertising API (menu) -> Documentation -> Account settings. Then click on "Click here" for user recognition.
You can start creating new keys via Access Keys as soon as you have registered with your partner account.
You can create a maximum oft wo keys, but you can use each key at multiple websites.
Find BrowseNode-ID
The BrowseNode-ID is the category ID of Amazon. Each category has its own distinct ID.
This distinct ID can be found via the integrated search option using key terms or you can find it directly on Amazon.
If you e.g. open the bestseller page (https://www.amazon.de/gp/bestsellers/books/467492/), you will find the ID in the address bar of your browser.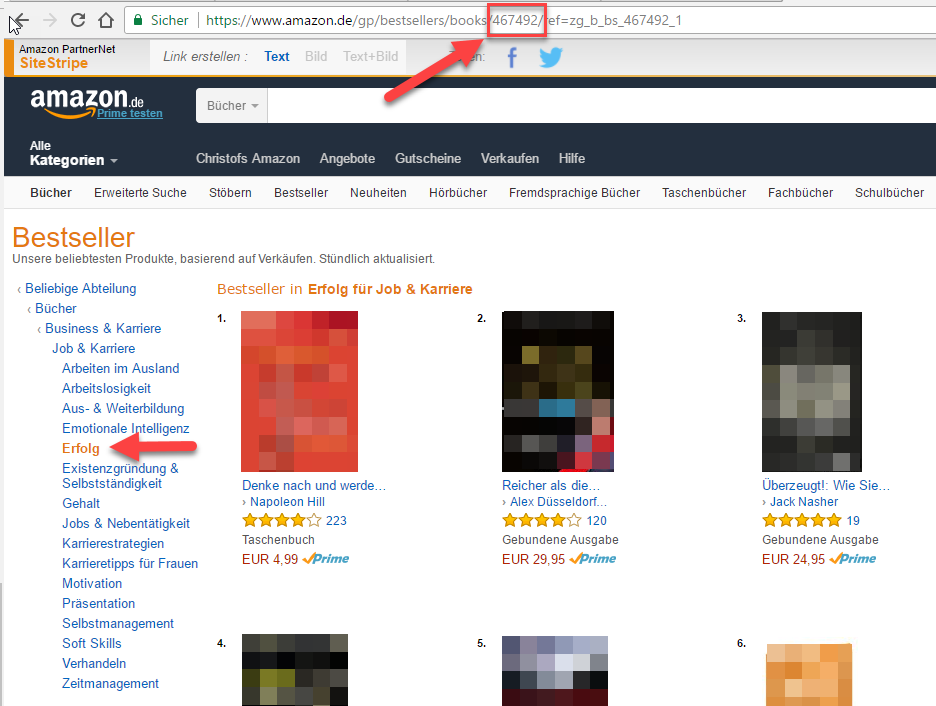 Advanced Search – Linktipps
The advanced search of the Amazon interface has some hurdles. SearchIndex is, for example, a mandatory field. Here you can find more information about the fields:
http://docs.aws.amazon.com/AWSECommerceService/latest/DG/ItemSearch.html
Here you can find everything about the possible categories and sorting fields:
http://docs.aws.amazon.com/AWSECommerceService/latest/DG/localevalues.html