The CSV-API allows you to integrate our plugin into countless additional shops. The API configuration is also easy. This post contains everything you need to know to setup the interface.
The configuration only applies to the CSV integration. All additional information regarding the shop can be found here.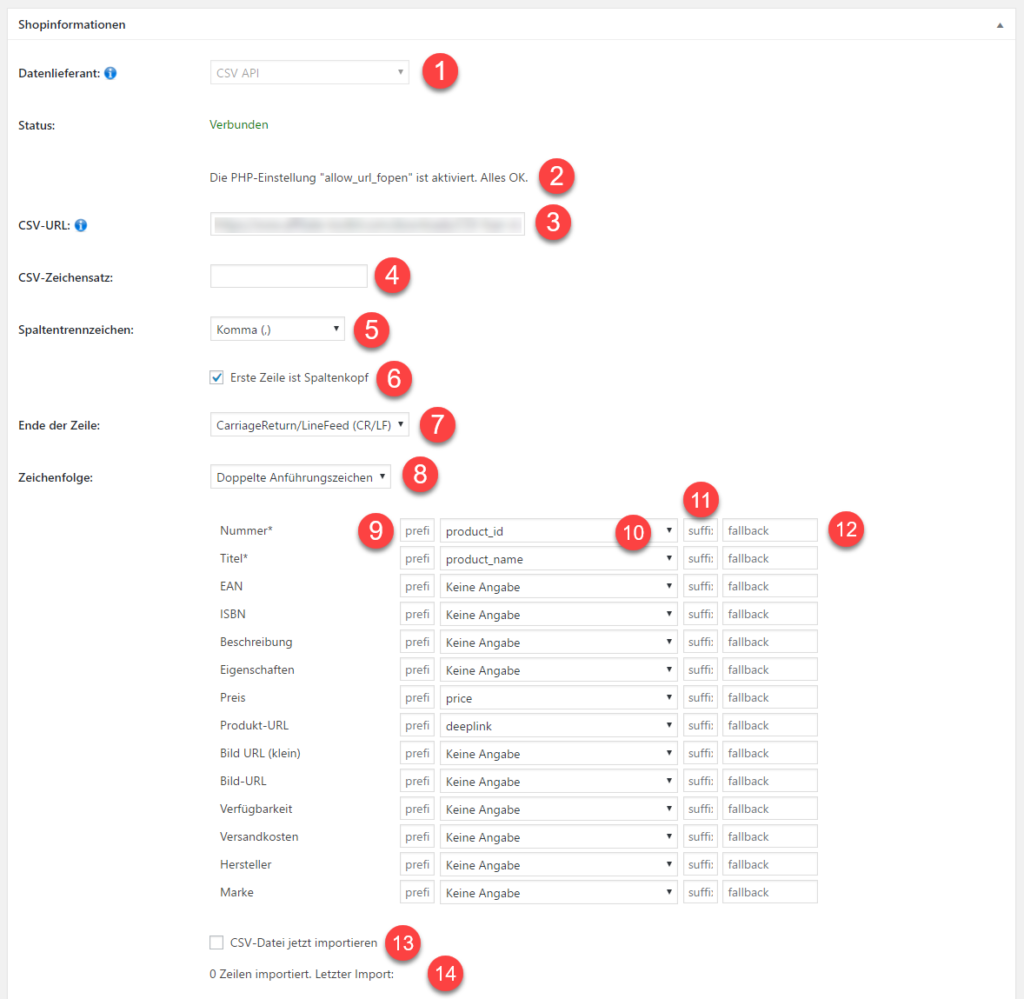 Setting up the CSV extension
1. Data supplier
This is where the CSV-API is picked. Afterwards you can enter the file's URL.
2. allow_url_fopen
This message shows you whether CSV-files can be opened as stream or if the files need to stored in the server's memory. In case the option has not been activated, you can't import large files resp. will receive error messages.
3. CSV-URL
Here you enter the URL of your CSV-file resp. the CSV-file of your shop.
4. CSV-character set
By default the files with will be opened using the UTF8-character set. However not everyone provides his or her files with this character set. In case a file can e.g. not be loaded completely or in case special characters look weird, you should check the encoding of the file. By the way, for Windows-1252 you can use "ISO-8859-1".
5. Column separator
The column separator which separates the fields.
6. First line is column header
Tells you whether the first line should be skipped or not.
7. End of line
In case your file uses a different break at the end of the line you need to configure it here.
8. Character string
In order to keep texts together and not separate them by a delimiter, you can keep them together e.g. by using quotation marks. That's an option to display the kind of delimiter.
9. Prefix
Used to add a text before the value taken from the CSV-file.
10. Column
Here you choose the column from which you want to write into the field on the left.
Attention: The field number and title are mandatory fields! If these fields are left blank, the CSV-file can't be imported!
11. Suffix
Used to add a text behind the value taken from the CSV-file. E.g. when you want add your partner ID to the URL.
12. Fallback
If the field for the CSV-file was left blank, this value will be used.
13. Import CSV-file now
Put a checkmark here, if you have made changes to the fields or in case you want to import new files. Only when a CSV-file is newly imported, you can see the corresponding product data in the backend.
14. Status
Here you can see how many lines were imported and when the file was updated for the last time.
Tipp: Check out our post about the own CSV-lists, if you need help with the set up.