Our Toolkit comes with an API for eBay. This post contains all the information you need to set up the interface within the plugin.

The configuration only applies to the eBay-API installation. All additional information regarding the shop can be found here.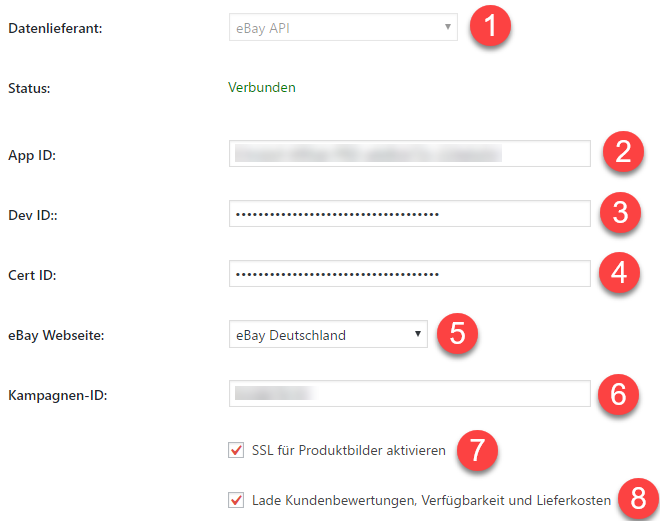 Setting up the eBay interface
1. Data supplier
This is where you pick the eBay-API. Afterwards you can enter your access information.
2., 3., 4. App ID, Dev ID und Cert ID
The three keys can be found on the PartnerNet. Additional information can be found below.
Click on publish once all information has been entered correctly. The plugin now connects to API and checks the key. Once the test has been completed successfully, the status becomes "connected" and all available partner shops are listed. Now you need to checkmark the respective sub-shops and save it again.
5. eBay website
Choose the eBay website you would like to advertise. Your partner account needs to be activated for the corresponding country.
6. Campagin-ID
Add your campaign ID, which you created in the PartnerNet, here.
7. Activate SSL for product pictures
If your website uses SSL or if you want to switch to SSL in the future, you should click on this box.
8. Load customer reviews, availability, and shipping costs
Our plugin allows you to scrap customer reviews, availability, and shipping costs directly from the eBay website. This function may cause issues for some web hosts as necessary components may not be available. In case you detect an error, simply switch the function of and use the information provided in the API.
Tipps regarding the eBay interface
Finding eBay access information
To access eBay's API you need "App ID", "Dev ID" and "Cert ID". These three keys can be found in the partner area of eBay.
You'll need a partner account. This link will take you to the PartnerNet.
As soon as you have created a partner account, you can reigster at https://developer.ebay.com (new account).
Once logged in, you can create a sandbox keyset as well as a "production"-keyset. Eventually you first need to create an application name, which you can choose according to personal preferences.
The App ID, Dev ID, and the Cert ID now need to be used as access information for the shop.

Find campaign-ID
You'll need a campaign-ID so you can track the clicks to your links. This is similar to the Amazon tracking-ID and can be found in eBay's PartnerNet.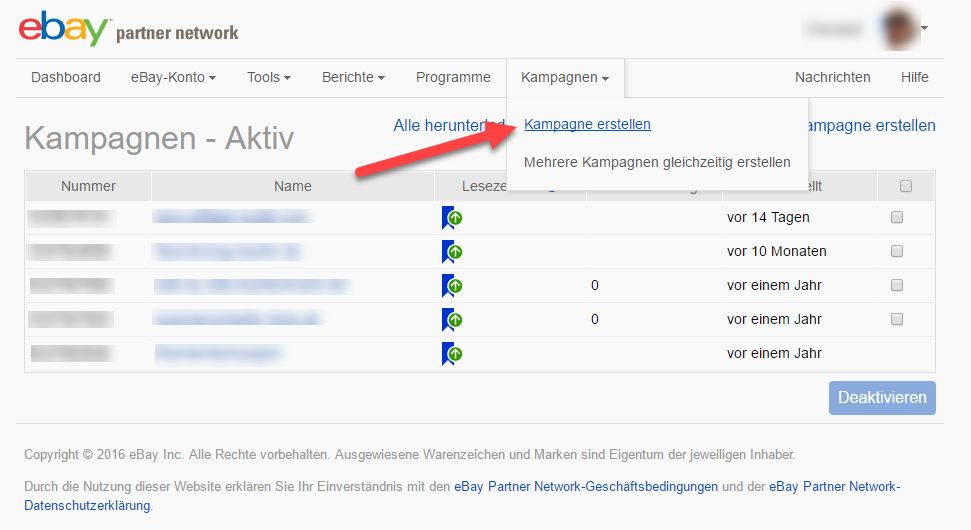 Simply copy the campaign-ID into the corresponding shop field.