A list contains several products. These lists can be created either dynamically (e.g. via the Amazon bestseller) or manually (own top 5 products).
Such lists can present bestseller lists, product comparisons, or any other desired presentation to the visitors.
Import lists (dynamic)
In case you would like to load dynamically lists from the API you have several prompts available from which you can choose. Not every API contains all kinds of prompts (except Amazon).
In order to use dynamic lists, a shop link needs to be created. After that you have 3 methods for the import of lists.
Import via "new list"
The creation via "AT lists" -> "create" is the easiest and most extensive options. This option has been part of the plugin since version 1.

1. Pick a shop
Here you pick the shop from which you would like to import your list. It is no problem to link the list to a different shop later on, if you would like to.
2. Choose type of prompt
Depending on the API different types of prompt may be available. Here's a short explanation:
Category – bestseller
This type of prompt is only available at Amazon. Via the BrowseNode-ID bestsellers can be loaded per category. Amazon always replies with max 10 articles.

1. BrowseNode
Either directly enter the BrowseNode-ID (the ID can be found on the Amazon category pages or via e.g. findbrowsenodes.com).
2. Search BrowseNode
Here a small dialogue for searching for BrowseNode opens. Simply enter search term, choose category, and click on it.
Category – new releases
Just like the bestseller option, this prompt is only available on Amazon. During the prompt, you receive all new releases. Not every category will provide sufficient products. This prompt is primarily considered for the book category.
Search
A simple search for products incl. sorting. This search is available in all shops.

1. Department
Choose the department in which you would like to search.
2. Sort
The sorting of the products depends on the department.
3. Key term
The key term for which you are searching.
4. Limit
The number of entries you want to be loaded from the API. You can also limit the amount of list entries in the shortcode during presentation.
Advanced search
In case your shop supports it, you can create a random prompt via advanced search. However, you will need some knowledge about the corresponding API.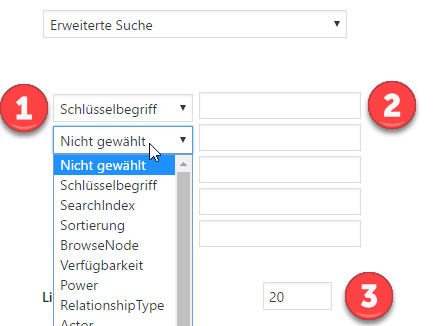 1. Parameter
The parameter which you would like to use for filtering. All fields are connected via UND.
2. Value
The value you would like to assign to your paramter.
3. Limit
The number of entries you want to be loaded from the API. You can also limit the amount of list entries in the shortcode during presentation.
Similar products – find similar products
This prompt is only available on Amazon and presents products similar to a previously chosen product.

1. Produkt
This product needs to be an Amazon product, which is connected via ASIN (distinct key).
Import via Shortcode-Generator
In case you are working on a post right now and would like to add a bestseller list in no time, this can be easily done directly via the Shortcode generator.
Click on "AT shortcode" and the following window will pop up.

1. Create a list
The button for the Shortcode generator is by default included in every post and visible on every page. In case you can't see the button, please click here.
Once the generator dialogue is open, click on the fourth button, this way you can "quickly" create your lists. The third button would be for searching already imported lists.
2. Pick a shop
Here you pick the shop from which you would like to create a list If you have a manual list you can create a list but you need to edit the products afterwards.
3. Choose type of prompt
The types of prompt used by the Shortcode generator are limited. However, you can change the type of prompt afterwards if you would like to.
4. Enter search term or BrowseNode
Depending on the type of prompt you either need to enter a search term or a BrowseNode (e.g. Bestseller).
5. "Create list and use"
With one click on the button your list will be automatically created and you will be asked to choose the processing options.
Erste Schritte
Advice: It may take a moment before a list is created. Don't click on the button multiple times!
Import via the CSV-Import
In case you would like to present several lists in your website and in case you already have e.g. already a CSV-list with search terms, you can simply import them using our plugin.
Therefore, go to the menu and click on "Affiliate-Toolkit" -> "Tools" and "List import".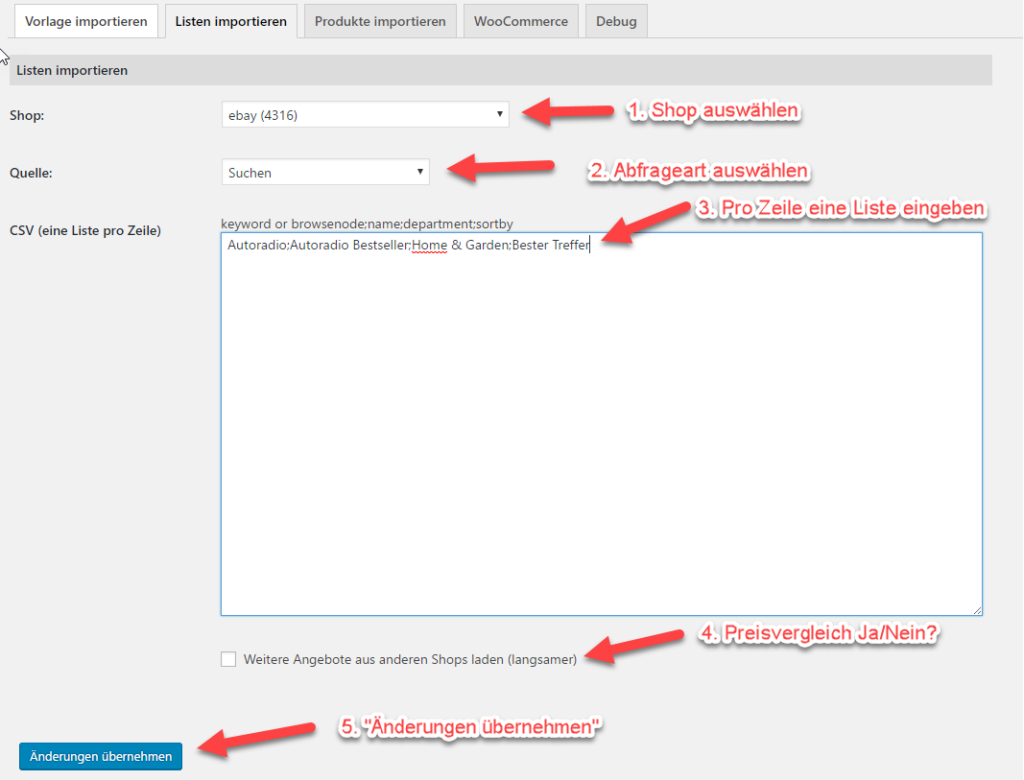 1. Pick a shop
Here you pick the shop for which you would like to create a list.
2. Choose type of prompt
Additional information regarding different types of prompt can be found at the beginning of this article.
3. Enter one list per line
A line always consists of either a distinct key term or BrowseNode-ID, title, department, or sorting.
In case a bestseller list or list with new releases is imported, the fields department and sorting are not available.
Hier is a sample:
Car radio;Car radio bestseller;Home & Garden;Best result
Car radio
That's the key term you use to access the list.
Car radio bestseller
Here you can add a title for your list. In case you don't want to add a title, simple leave the box empty. However, don't delete the semicolon (";") by any means!

Home & Garden
That's the department which can be found in the dropdown of the list.
Best result
This represents the sorting which is also represented in the list.
4. Price comparison yes/no?
In case this option is not selected, no automatic price comparison will be performed for the products.
5. "Save changes"
Now your list will be imported step by step.
Suggestion: You should import one list first and work with it. Otherwise you may eventually need manually delete all lists and import them again!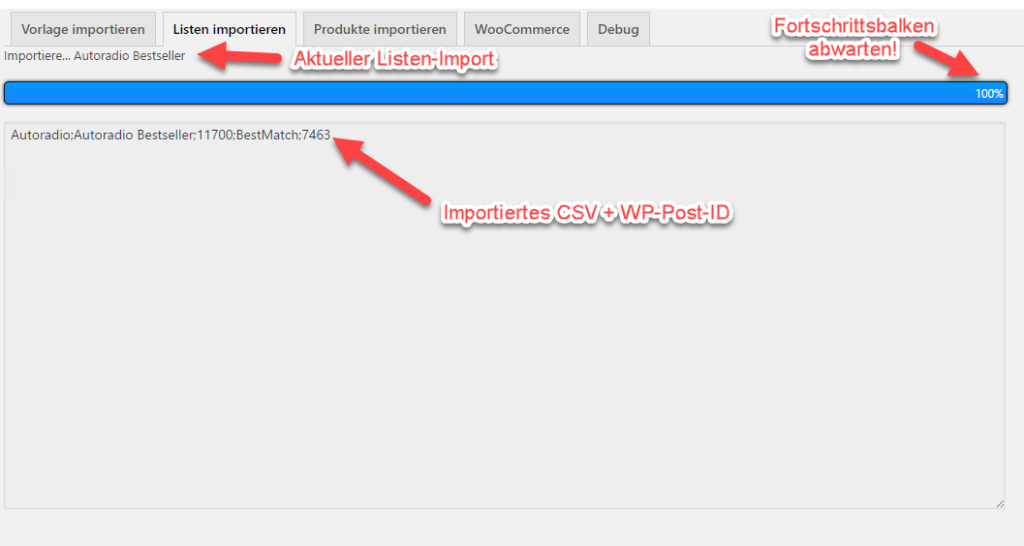 After clicking on "save changes" the import form will pop up and the list import begins. During this import, every list in the CSV is imported and afterwards integrated in the below text field. Even the WordPress post ID is created in this process.
Important: The import form needs to stay open until the very end. Otherwise not all lists may be loaded completely!
Dynamic lists
We are sure that you already noticed some options why creating your lists. Here you'll find some explicit explanations for these options which apply to all dynamic lists.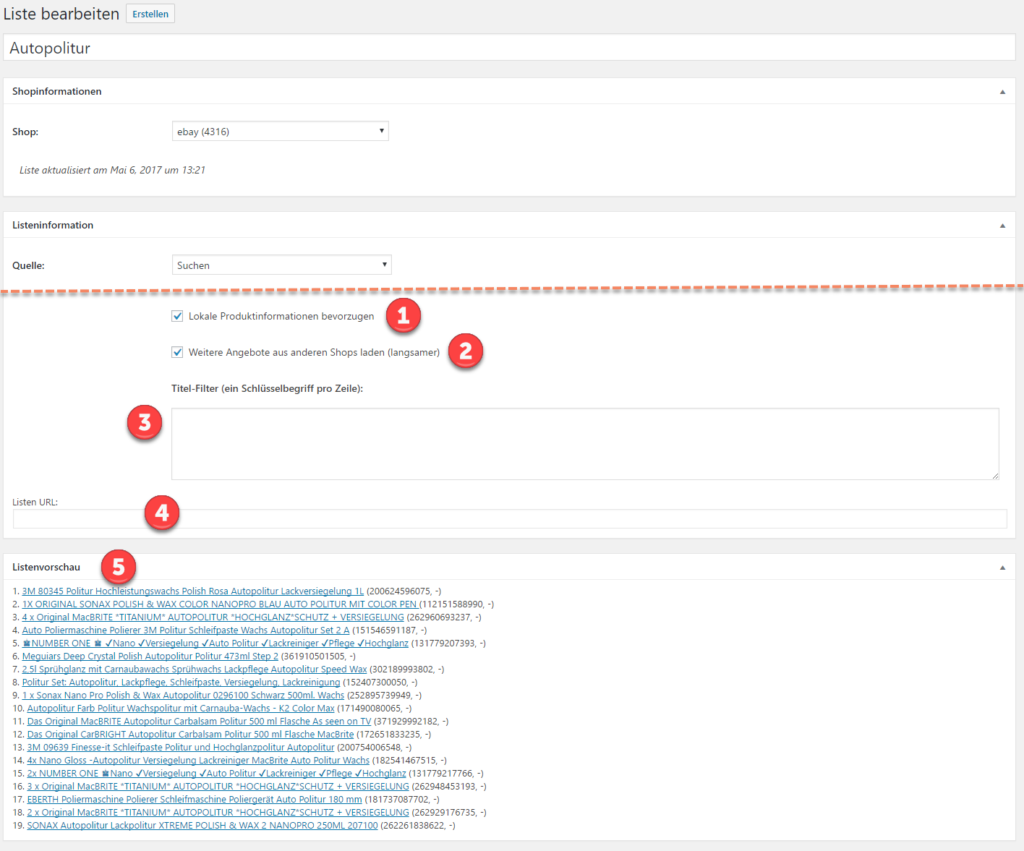 Prefer local product information
Once you select this option, all products which have been locally imported will be integrated into the list (the local product needs to be highlighted by a distinct key ASIN). So if you have bestseller in this list which was imported as an AT product the product information of the imported product and not the list information will be used.
Load additional offers from other shops (slower)
This option allows a price comparison in the activated shops (via EAN). This option can, depending on the amount of list entries, tremendously slow down the loading speed.
You can e.g. load bestsellers and additionally checkout all available prices from your partner shops at the same time.
Title filter (one key term per line)
Here the list, which was loaded from the API is additionally filtered through the title filter. For example: bestsellers for "rotary sander" also includes multi sanders. Here you may enter "rotary sander" in the text field and only results with the term "rotary sander" in the title will be displayed.
List URL
Here the URL which is provided by Amazon (for additional results from the Amazon website) is displayed. Proxy: %listurl%
List preview
Here you'll see all results for the search coming from the API (in the correct sequence).
Creating manual lists
Aside from imported lists you can also create your own lists. The form for this manual list is shown below.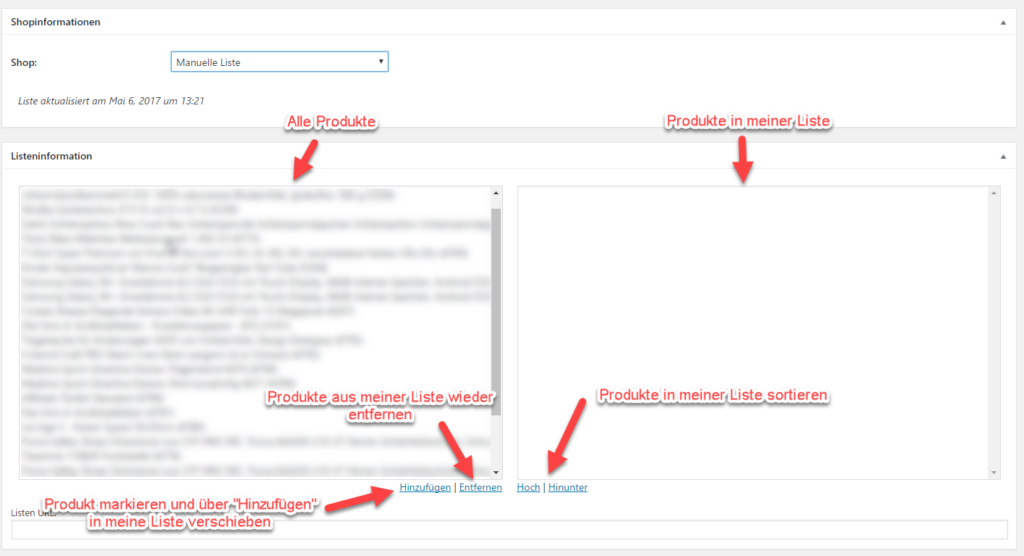 As soon as you create a manual list you can freely define it via the already created products. You can add individual products and randomly sort them.
When using a manual list, you are free to define the URL as well.