The affiliate toolkit provides a widget, which can easily display lists and products in WordPress's widget area.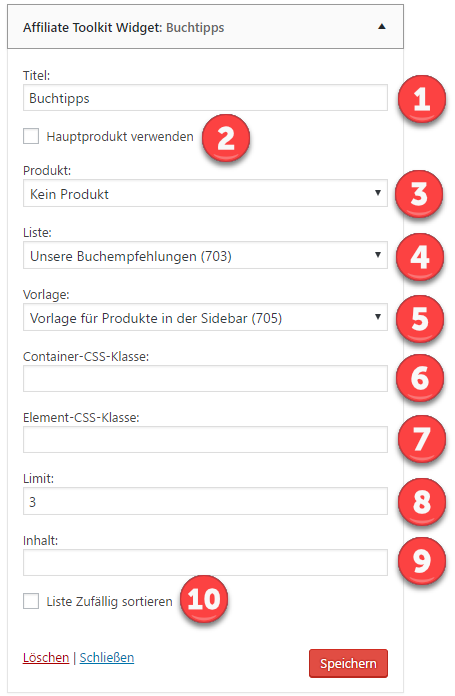 1. Title
Here you can add the title for the widget. If the product or the list is not available, the title will be displayed automatically.
2. Using the main product
If "Use main product" is checked and a post with a main product has been opened, the main product is used in the widget.
The main product may be:
The product on a product page
The product of a post (if main product has been selected)
The product of a WooCommerce-product
If no product and no list is selected and the main product is not available, the widget is not displayed.
3. Product
Choose a product here. If a main product was chosen, this is the fallback product.
4. List
The same for the product applies for the list. You can only choose between a product and a list. If you select both fields, the product is preferred..
5. Temlate
Select a template to display in the widget.
6. Container-CSS class
Here you can submit several CSS classes to your template. This allows you to override the container via CSS. Placeholders:% cssclass%
7. Element-CSS class
Here you can submit several CSS classes to your template. So you can override the element by CSS.
8. Limit
In case you selected a list, you can set a limit for it here.
9. Content
Use this field to add values to the template. The content is available with the% content% placeholder in the template.
10. Sort the list randomly
With this option you can have the list randomly sorted.